Magazine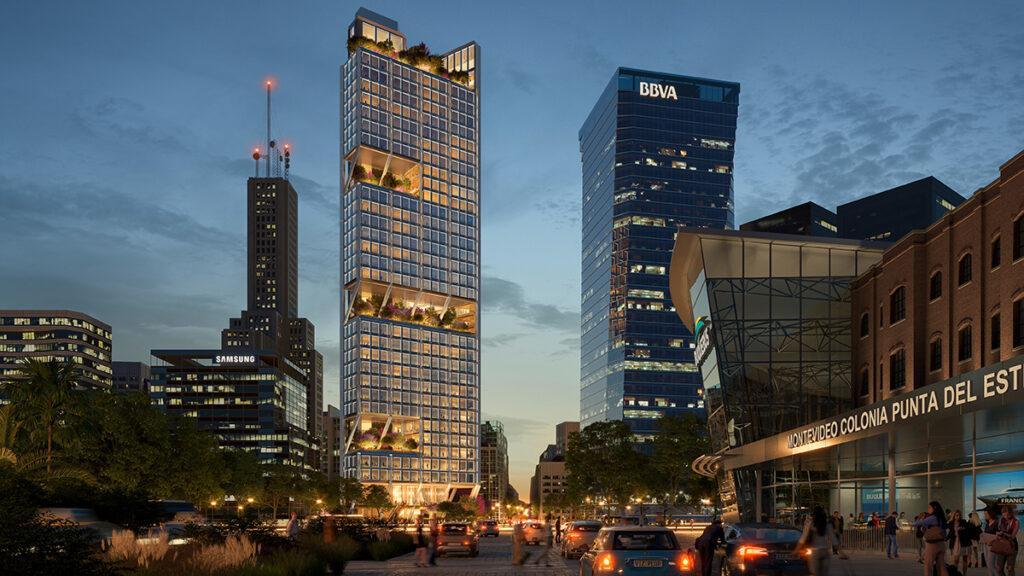 Office tower as city highlight
Architecture studio Foster + Partners have designed an extraordinary office tower for the heart of Buenos Aires. As a sustainable and flexible building, Avenida Cordoba 120 is set to provide more than just an optimum working environment. Its public space is intended to enhance the entire district.
Although for some people the name of this project will trigger associations with the 1978 FIFA World Cup, the new office tower Avenida Cordoba 120 has nothing to do with the legendary football match in Córdoba. The tower is being built in Buenos Aires on one of the metropole's main thoroughfares, whose name it bears. The design of this new Foster + Partners construction is still spectacular, though.
Garden paradise for all
The 35-storey building lies at an important junction between the town centre and the redeveloped harbour district of Puerto Madero. Here, the office tower will not just provide attractive workspaces, but is also expected to serve as a new city highlight. Among other things, it will include lush public gardens and a café. The large green space also extends below the building, envisioned as a relaxing meeting area for visitors.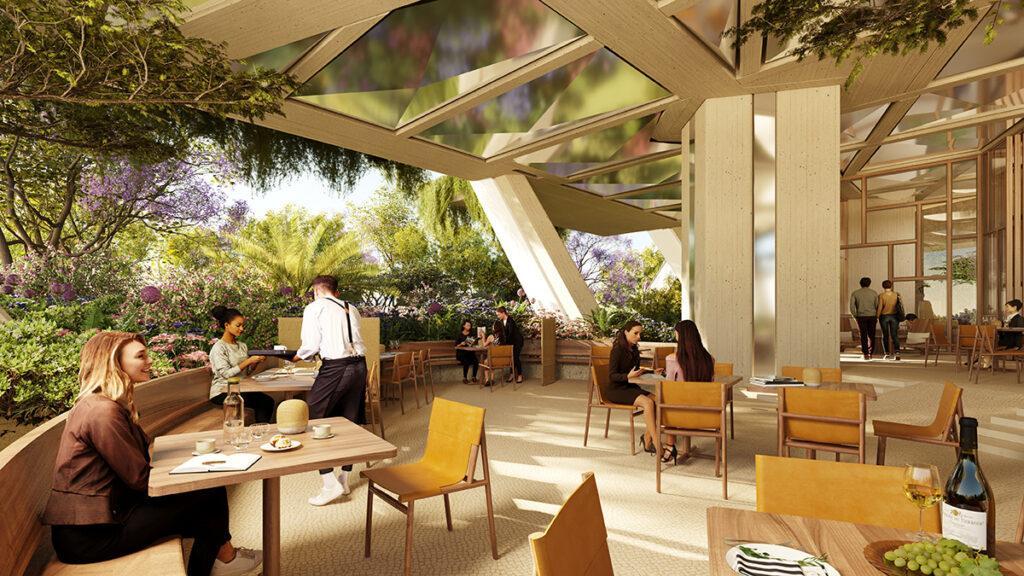 "Avenida Cordoba 120 combines structure and nature to create a landmark building that will set a new benchmark for office buildings in the region. Through its materiality and spatial variety, it offers flexible workspaces for a range of companies, while enhancing its urban surroundings," says David Summerfield, Head of Studio at the renowned firm Foster + Partners.
Avenida Cordoba 120 combines structure and nature to create a landmark building that will set a new benchmark for office buildings in the region.

David Summerfield, Head of Studio, Foster + Partners
Construction at the crossroads between Avenida Cordoba and Avenida Alem has already begun. And the design by the architects at Foster + Partners promises an impressive environment.
Smart triangle
The elegant office tower will be triangular in shape, ensuring ideal views of the Rio de la Plata and also of Buenos Aires city centre. At the same time, a lift core at the building's southern facade enables spacious and flexible organization of the interior spaces.
Seventy percent of the ground plan is designated as public space. The garden will rise above the café, which will tastefully blend into the surrounding greenery. This space is also designed to be an ideal environment for events.
Green terraces
Dense, abundant greenery will also adorn the building in the form of triple-storey green terraces. These will serve as attractive open-air spaces that can be used for informal meetings.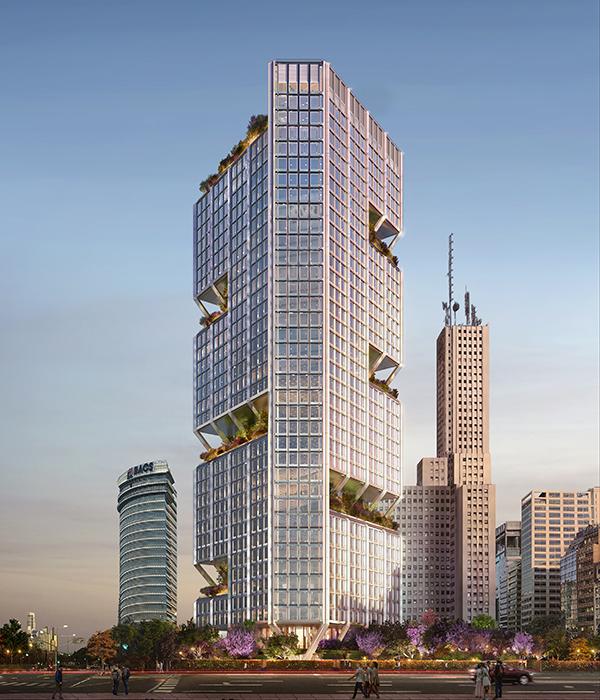 Seven terraces and five indoor atria define the building's organizational principle. Offices will be grouped around open spaces like "villages". This concept enables the architects to establish a visual connection between different levels.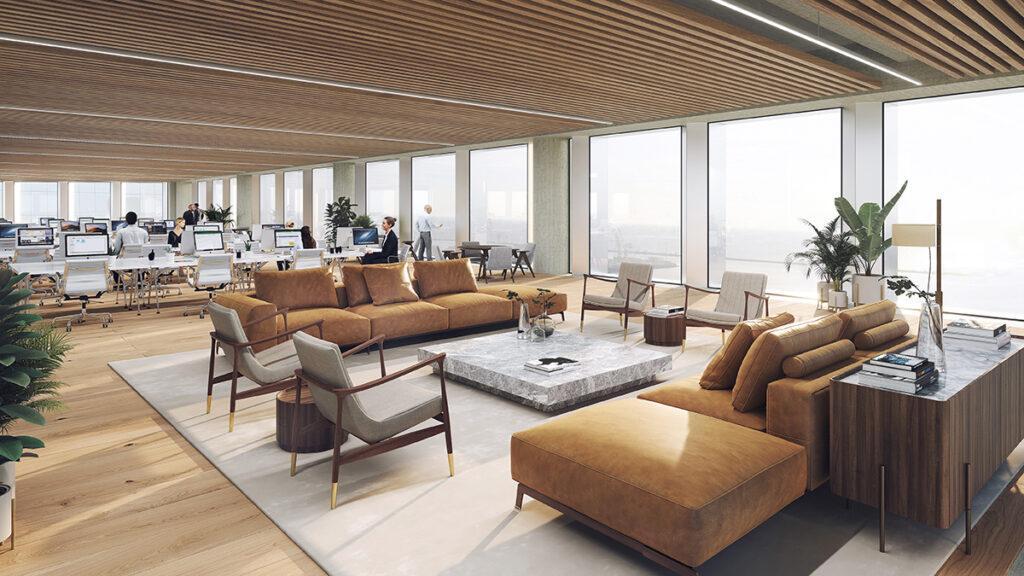 The design features up to twenty different floor plans, based on four basic types, which will allow future users to choose from a wide range of possibilities.
Office tower with bicycle ramp
The raised entrance lobby of Avenida Cordoba 120 will be accessible through a promenade of terraced steps. To the east and west, escalators will be available. And a dedicated bicycle ramp plus barrier-free entrance will be located at the south-eastern apex of the building. A subdued range of materials in the lobby with wood, fair-faced concrete and polished stainless steel will create a particularly inviting ambience.
Sustainability is key
The folded stainless steel facade is based on a "picture frame" principle, which aims to highlight the views of the city below and also reduce heat gain.
The architects have not yet published further information with details of their sustainability concept. It is clear, however, that the office tower is intended to provide the highest standard possible in this regard. After all, the team have specified an LEED Gold rating as their goal.
It is well known that Foster + Partners are experts in sustainable architecture. Their founder was honoured as part of The National German Sustainability Award in 2013, and Sir Norman Foster is generally renowned as a pioneer of this type of architecture.
Impressive portfolio
Rightly so, as his architecture firm continually demonstrates in new projects. The most recent of these include the LEED Platinum-certified Comcast Technology Center in Philadelphia and the BBC Cymru Wales Headquarters in Cardiff. Other examples are Michael Bloomberg's spectacular European headquarters in London and eye-catching Apple Stores around the world.
First-rate offices for tomorrow's world
At the same time, another exquisite flex-office building is now being developed in Luxembourg, designed by the same architecture team: "ICÔNE" – like Buenos Aires' new office tower – is set to provide a boost for the whole district, while also aiming for excellent BREEAM and WELL Building Standard® ratings.
Text: Elisabeth Schneyder
Translation: Rosemary Bridger-Lippe
Images: Foster + Partners
Other articles
that might interest you
#living
Back to the roots
The eco-friendly residential project Roots will be the new landmark of Hamburg's HafenCity and the tallest timber high-rise in Germany. Architect Jan Störmer reveals what its future residents will have in common.
#living
The tallest residential building in the world
The new Central Park Tower is a byword for pure luxury and, at a height of 472.44 metres, is also the world's tallest residential building. Prices start at nearly seven million euros for a two-bedroom apartment.