Best address in town:
Nowy Świat.
This historic district combines the spirit of the past with the modern feel of a dynamic metropolis. For centuries the architecture, unique character and rich cultural life of Nowy Świat have delighted its visitors. Steeped in history, the buildings create a special atmosphere.
The recreational facilities and cultural heritage in the area are undeniable advantages. The Main Square, Wawel Castle, Błonia Park and the Vistulan boulevards are in the direct vicinity.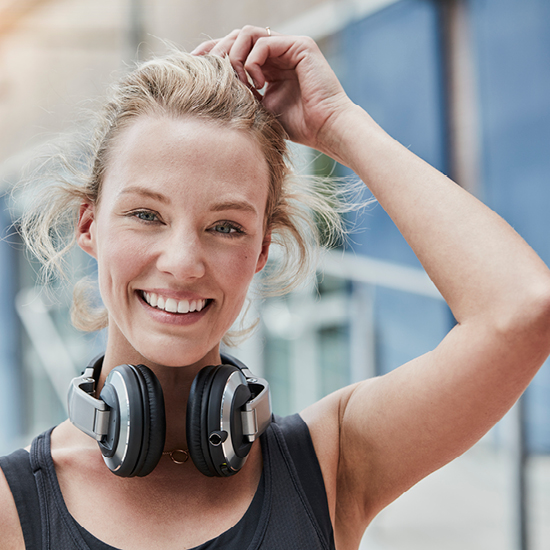 An exclusive
community
Leafy patio area with brine graduation
Relaxation area with jacuzzi
Charging stations for e-bikes and e-scooters
Noble Residence means independence and freedom of choice. The location of the property allows its inhabitants to enjoy all the advantages of Kraków. At the same time, the occupants of Noble Residence will benefit from all the amenities needed for exercise, rest and relaxation: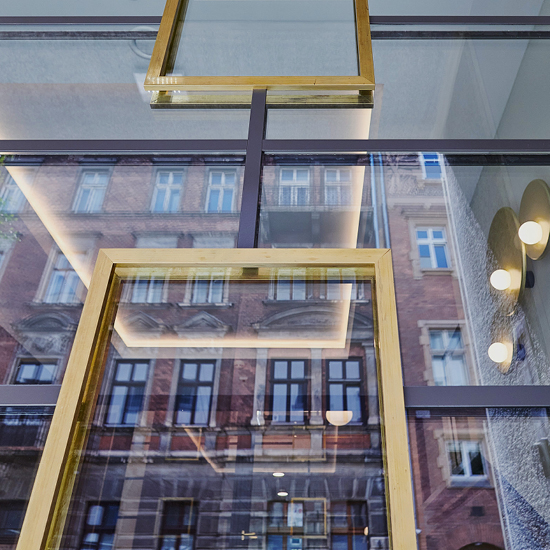 High-quality
workmanship
Noble Residence was designed with smart management solutions to offer comfort and convenience for its future residents.
A state-of-the-art heating and climate control system is an intrinsic part of the building, as are digital reservation tools for the shared amenities, and the garage parking control service.
Enabling you to take care of everything remotely – conveniently and fully automated.
Facts & figures
fitness room, sauna, gym, relaxation area with jacuzzi, clubroom
Location
In the heart of
the Old Town
Noble Residence is a perfect place for people who value privacy and comfort in their everyday lives. The building's location in the heart of the Old Town also offers easy access to Kraków's entertainment, culture and recreation attractions.
Old Town chic and comfort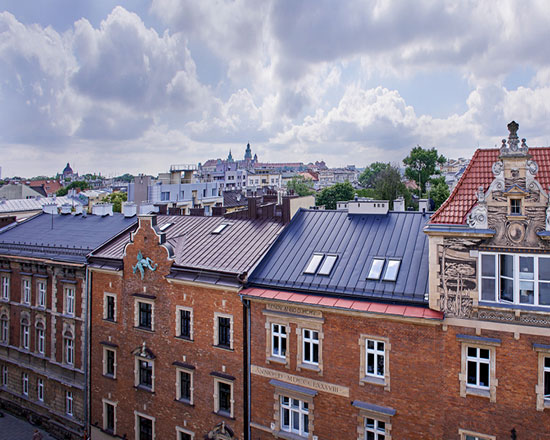 Historical
heritage
Noble Residence is located at Smoleńsk 33 in the historic Old Town, in the part that used to be known as Nowy Świat.
The history of this location goes back to the second half of the 19th century, when a road was laid that replaced the street running from Wiślna Gate to Smoleńsk (later called Nowy Świat). Initially undesignated, in 1881 the street was given its current name.
Nowy Świat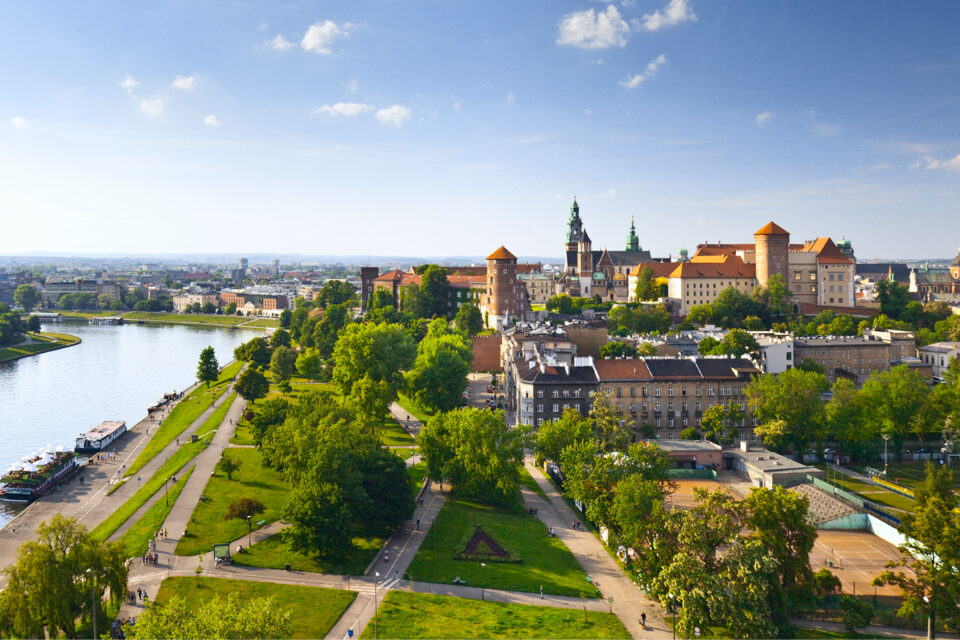 An exciting
combination
The neighbouring streets Retoryka, Bożego Miłosierdzia and Felicjanek are architectural gems. This entire historic district of Kraków has landmark status and is packed full of theatres, schools and historic tenement buildings with a choice of leafy squares and hideaways.
Nowy Świat, a district of Kraków stretching along the banks of the River Vistula up to Wawel Castle, displays a blend of architectural styles and impressive buildings from various epochs. The aesthetics are inspired by elements of neo-Gothic style, functionalism and modernism. In 1994 the district of Nowy Świat was declared a cultural monument together with the entire Old Town.
Kraków's beating pulse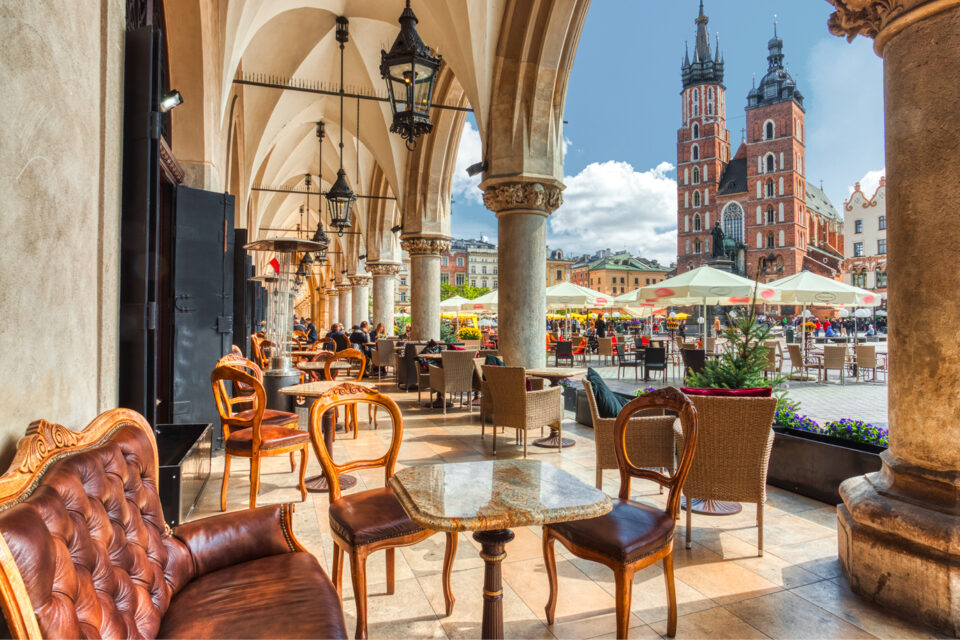 The majestic
Old Town
Kraków's Old Town offers an endless wealth of historic monuments and cultural sights, with green spaces in the immediate vicinity. Several of Kraków's landmarks are found within only a few hundred metres of Noble Residence: the Main Square, Błonia Park, Wawel Castle and the Vistulan boulevards.
Noble Residence is the ideal home for those who appreciate privacy and comfort. Its site at the heart of the Old Town puts Kraków's attractions in direct proximity: entertainment, culture and leisure are never far away. Numerous cafés, restaurants, clubs, art galleries and museums are excellent places for meeting friends or in groups, or for business appointments.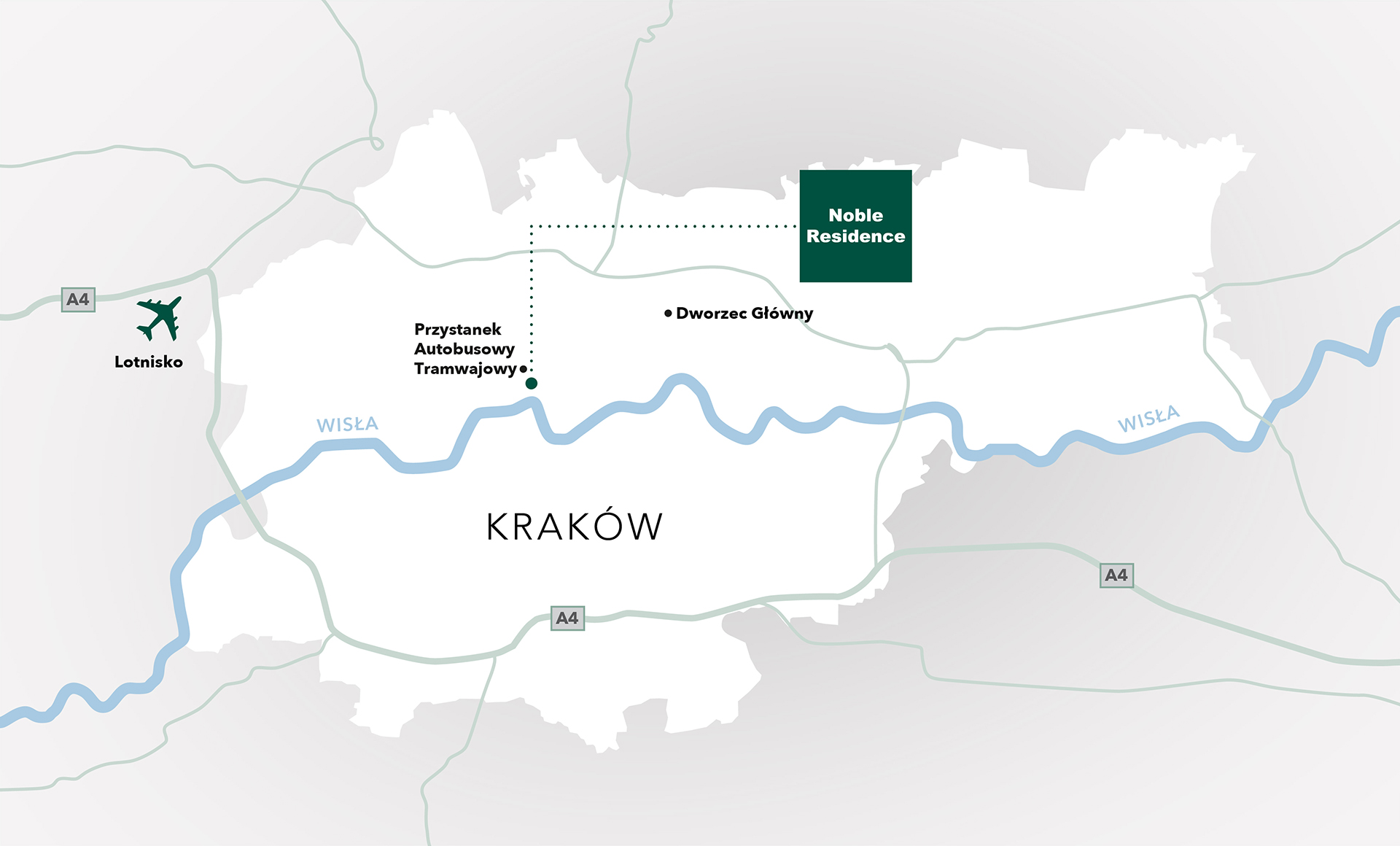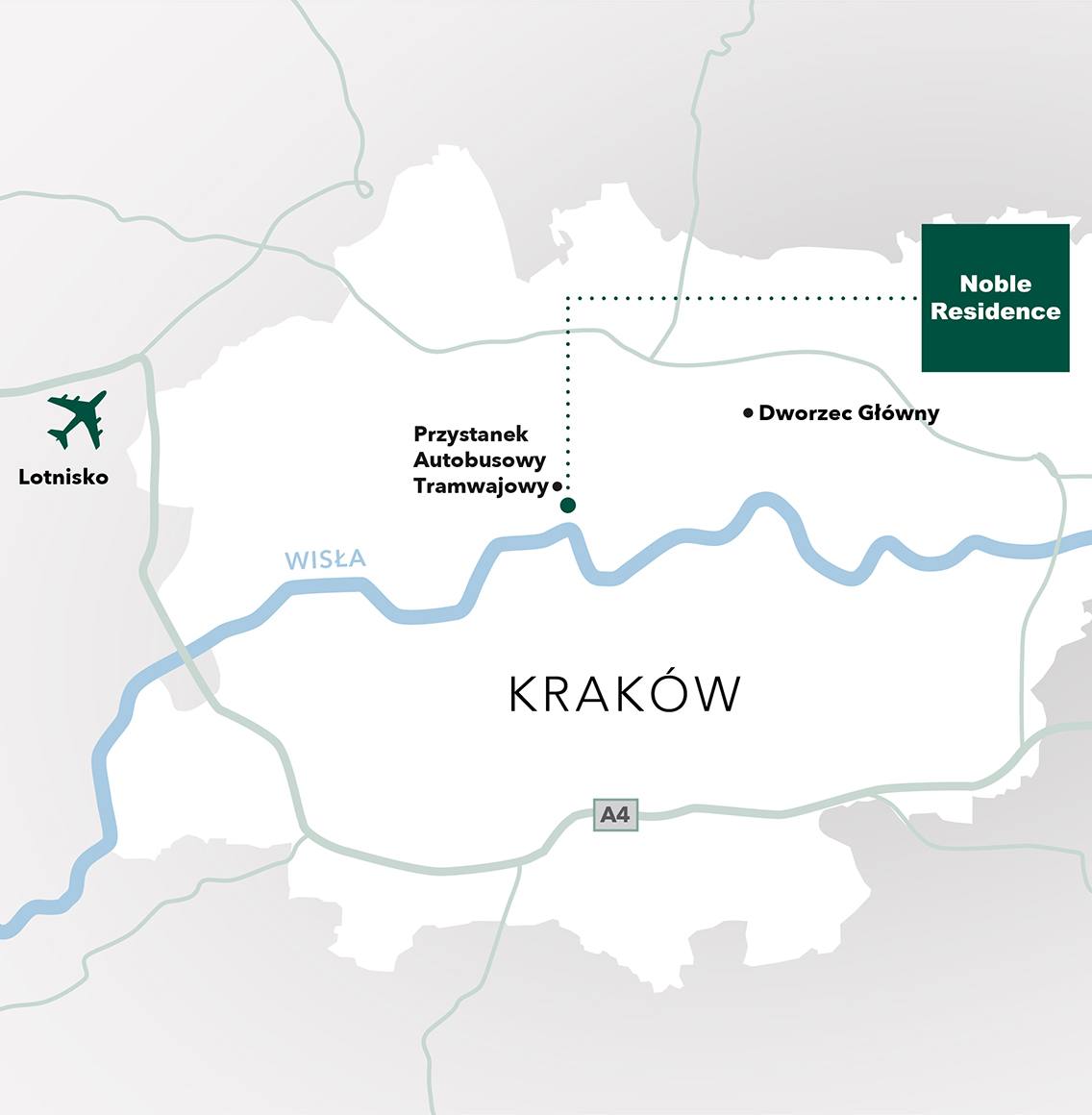 Airport:
14.5 KM
(by car)
20 MINS
(by car)
Bus stop:
180 M
2 MINS
(on foot)
Kraków bypass:
9 KM
(by car)
15 MINS
(by car)
Tram stop:
260 M
2 MINS
(on foot)
Noble Residence combines modern solutions with modernist architecture. This combination of respect for tradition and consideration for residents' needs in a dynamic city produces a setting that meets the tastes of even the most discerning people.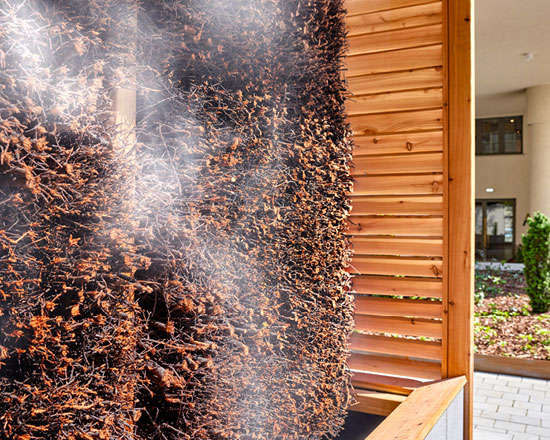 Ecological
living
Residents-only
charging stations
Environmentally friendly
materials and solutions
People have differing needs and expectations. With this in mind, we have designed different types of housing for the future occupants of Noble Residence: stylish studios and relaxing apartments, plus highly exclusive homes with a view of Wawel Castle.
Apartment Finder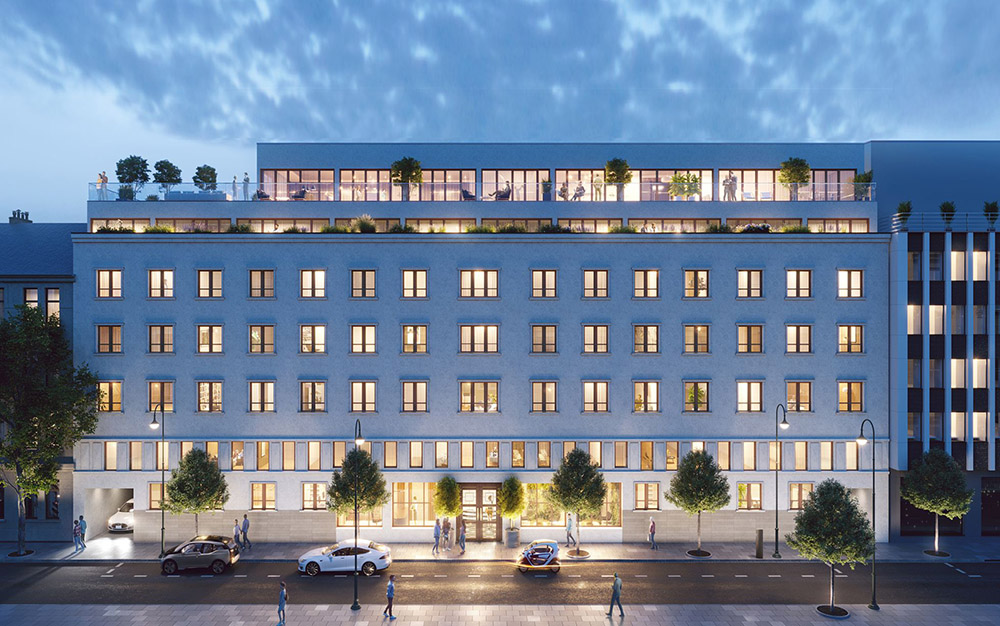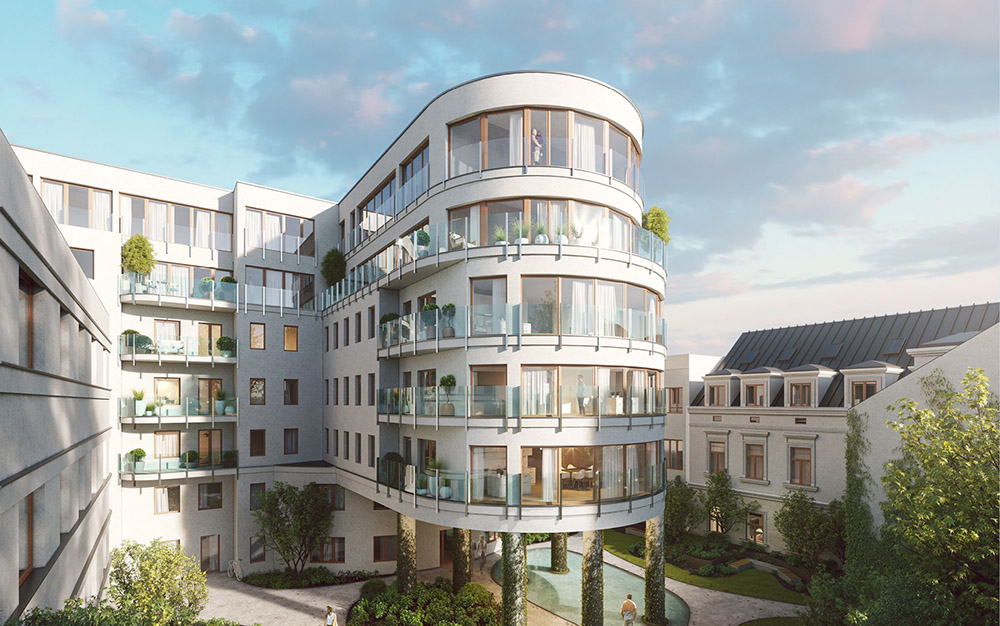 Segment
Floor plan
Apartment
Surface area
Floor
Rooms
Outside extras
Category
Aspect
Status
Segment
Floor plan
Status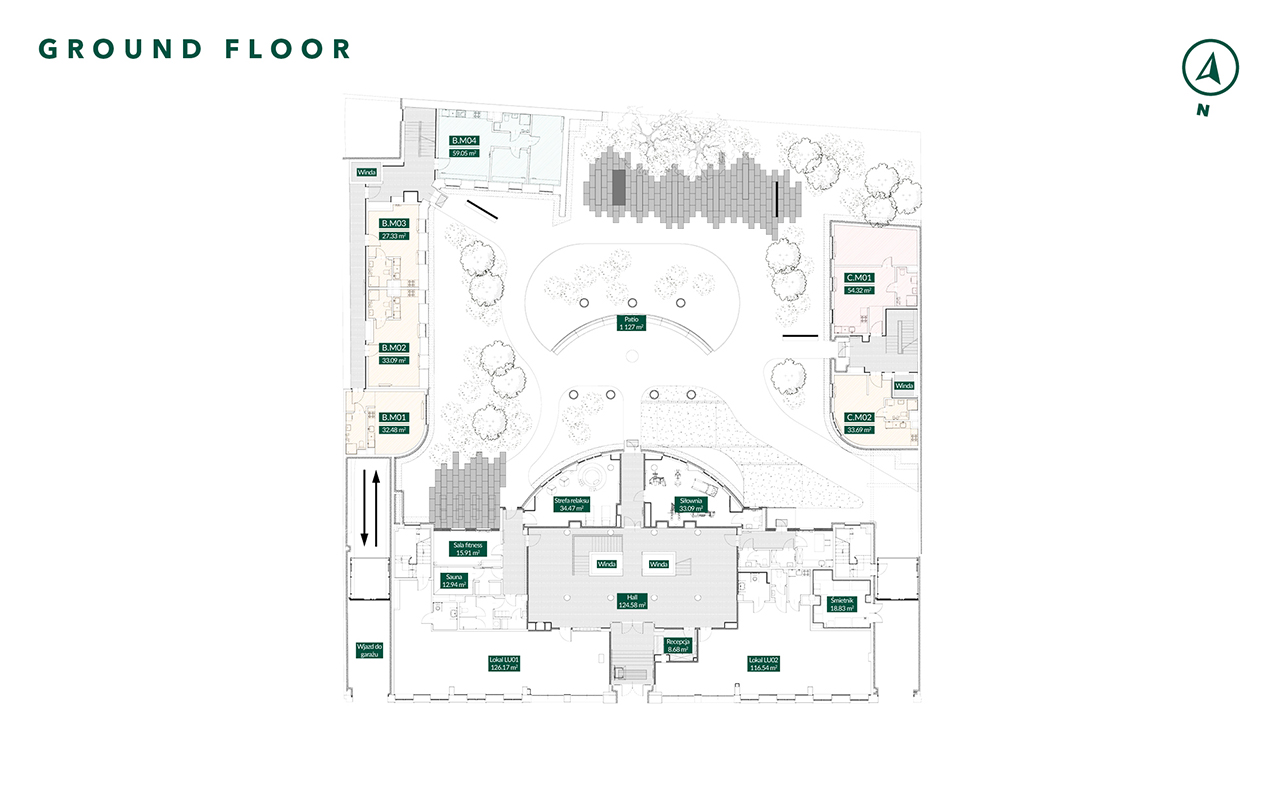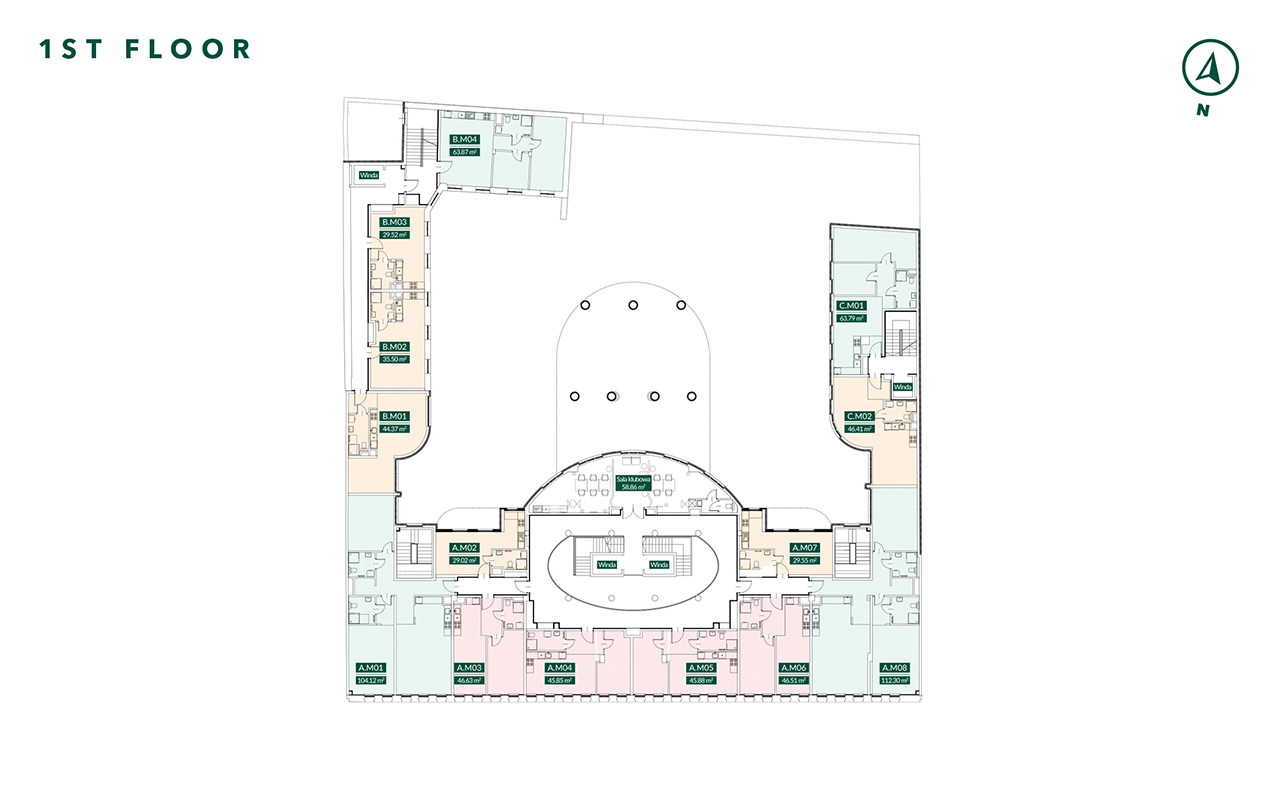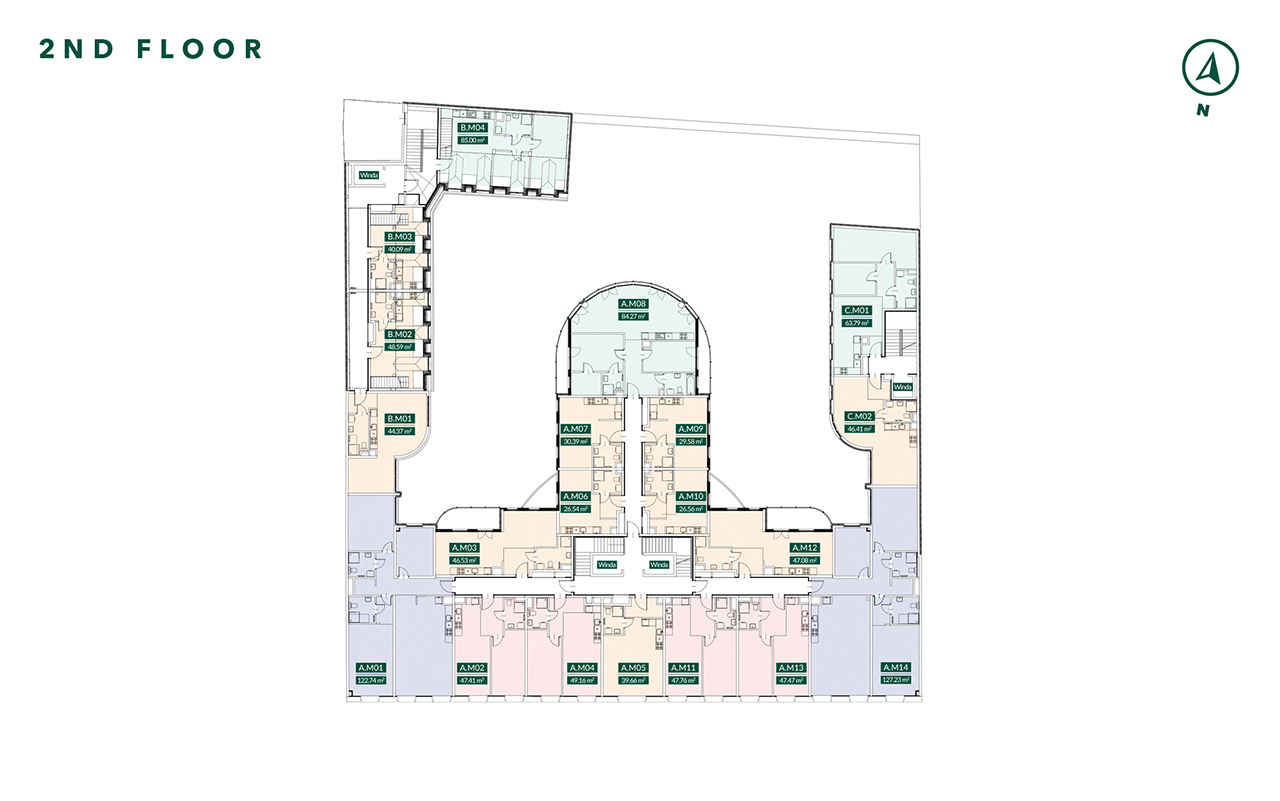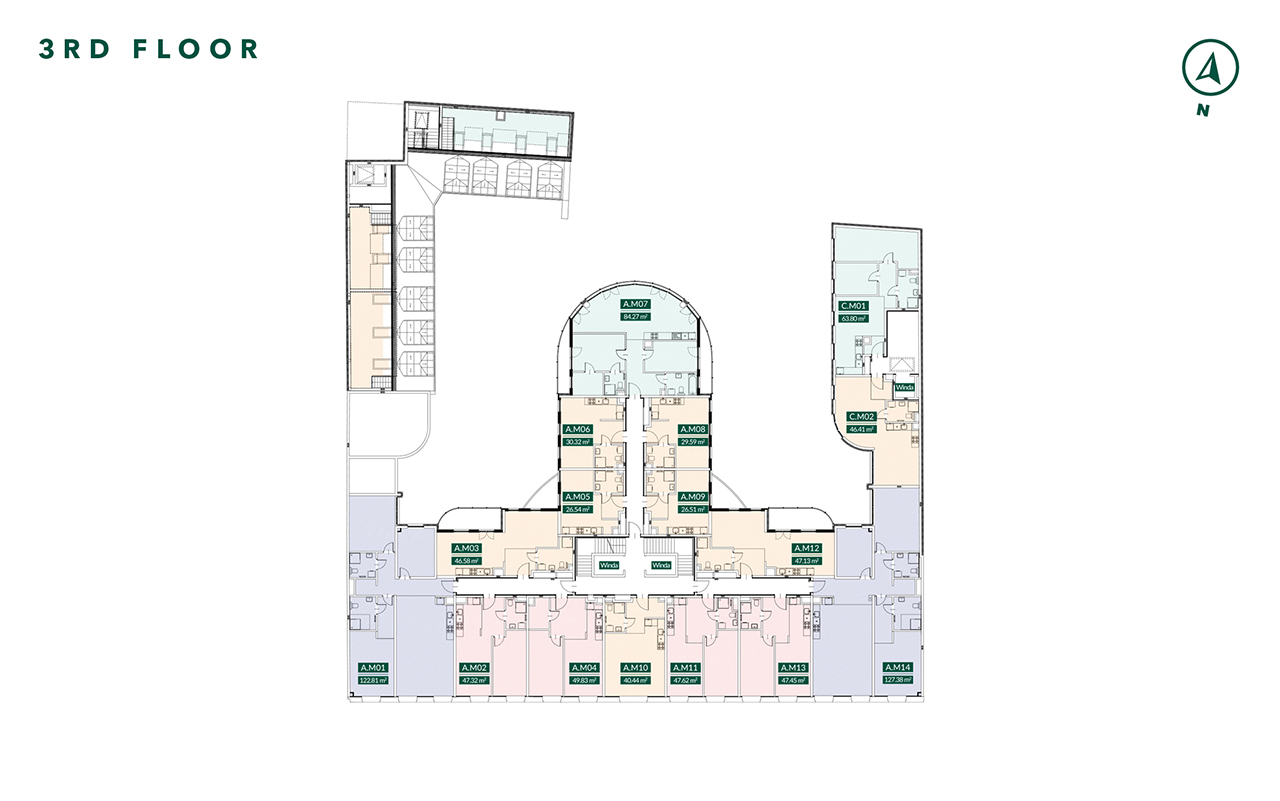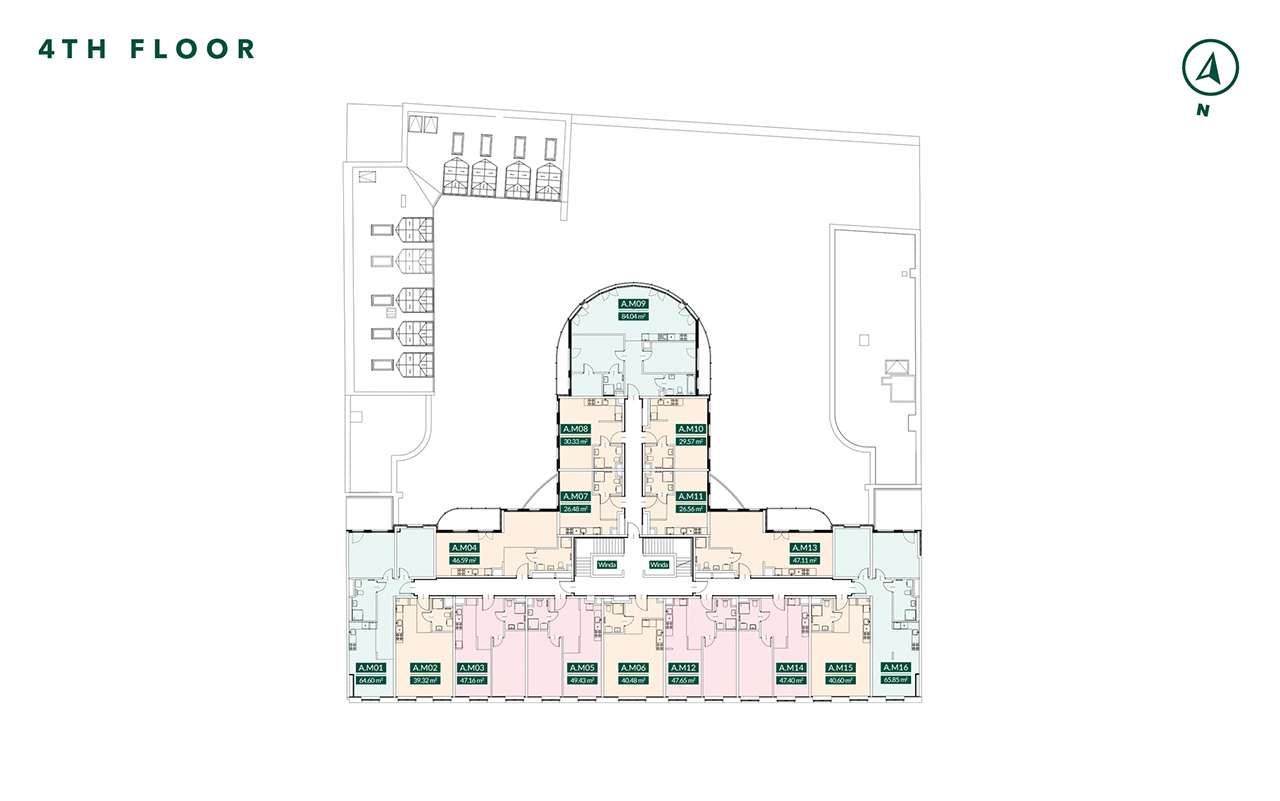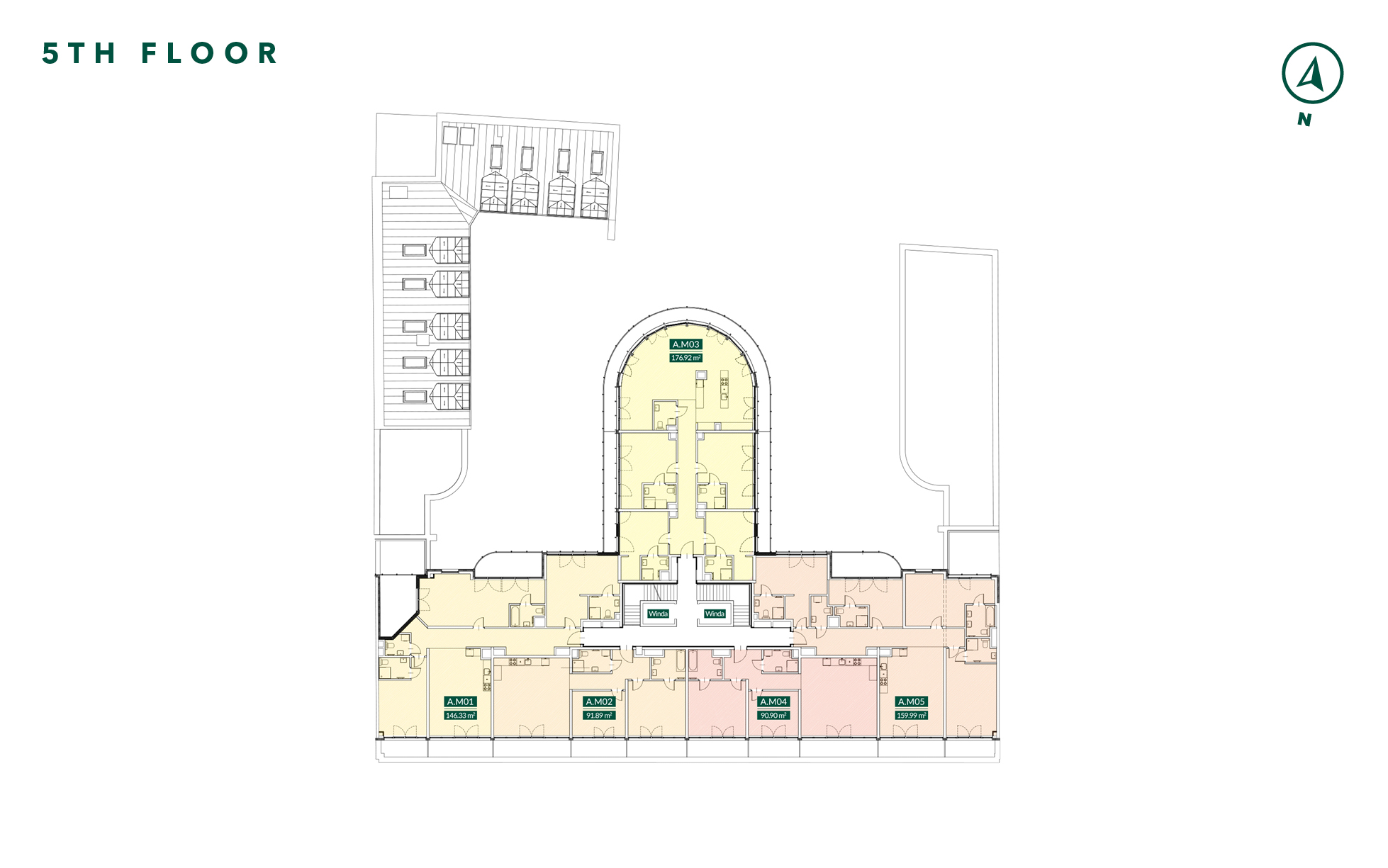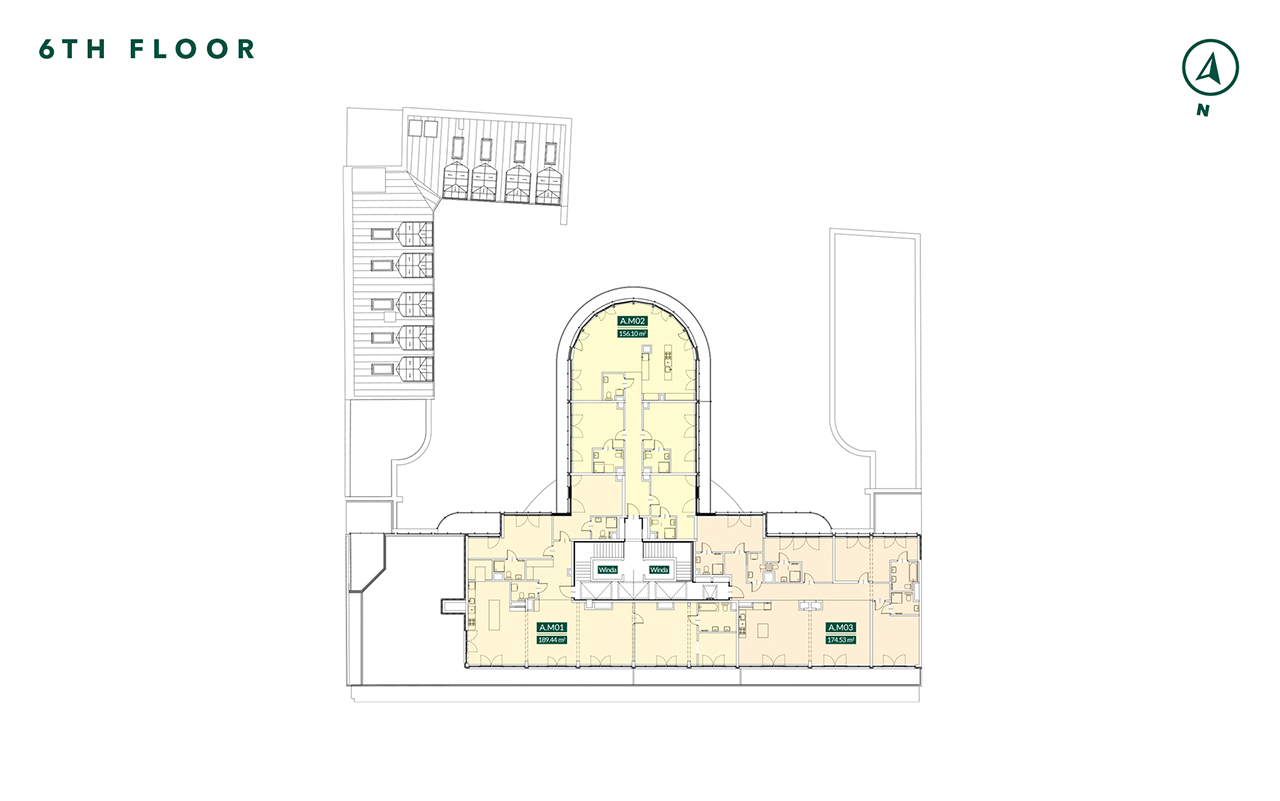 Find out more about
Noble Residence
Apartments with surface from 26 -190m2 – are you interested? Don't hesitate to contact us for more information.
Sebastian Vetter, Managing Director
UBM Development Poland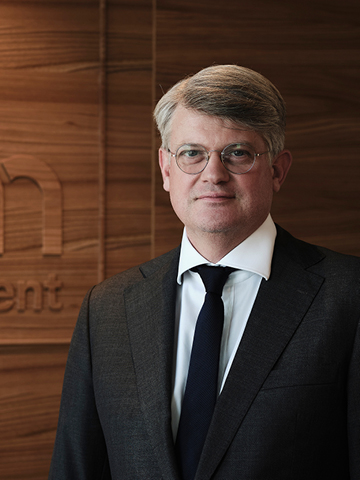 "Noble Residence is an important part of our 'green. smart. and more.' philosophy that aims to create a special quality of life in Kraków for the future."
Hard Facts
General
Floors

6

Apartments

80

Office Units

2

Floor area

25-190 m²
Standard
Construction

Building –- reinforced concrete

Walls

Reinforced concrete and brickwork

Shared areas

Natural stone, natural wood, porcelain stoneware, wallpaper
Residents-only
Reception desk with security

24h

Prestigious entrance hall

132.15 m²

Gym

33.99 m²

Fitness room

15.91 m²

Relaxation area with jacuzzi

34.98 m²

Sauna with relaxation room

12.94 m²

Clubroom

60.01 m²

Leafy garden

1127 m² with brine graduation tower
For many years this proud building has been waiting for a new owner and suitable renovation. At long last a modern residence will be built here that is worthy of its heritage and equipped for the future. Its name: Noble Residence. The masterful combination of traditional and modern elements with the needs of today's residents creates a specific style of unobtrusive elegance.
The interior of the building was designed by Wacław Krzyżanowski, a renowned Polish modernist architect who was responsible for the Jagiellonian Library building and the Tarnowski Family Castle.
Project Partners
Sales
Private House Brokers
Miłosz Kucy
Angel Wawel ul. Sukiennicza 8/U8
31-069 Kraków
Poland
Maciej Dymek
Angel Wawel ul. Sukiennicza 8/U8
31-069 Kraków
Poland
Developers
UBM Development Polska sp. z o. o.
ul. Poleczki 35
02-822 Warsaw
Poland
Marcin Szurczak
UBM Development is one of Europe´s leading developers of timber construction projects. The strategic focus is on timber construction, green building and smart office in major cities such as Vienna, Munich, Frankfurt or Prague. A Platinum rating from EcoVadis and Prime Status from ISS ESG confirm the consequent focus on sustainability. With 150 years of experience, UBM offers all development services from a single source, from planning to marketing. The shares are listed on the Prime Market of the Vienna Stock Exchange, the segment with the highest transparency requirements.

UBM has operated in Poland since 1993 and has planned and realized major, prominent investments: InterContinental Hotel in Warsaw, Andel's Hotels and Villa Galicja apartments in Kraków, and also Radisson Hotels in Wrocław and Kraków. Its many years of experience and success guarantee project execution and dependability.